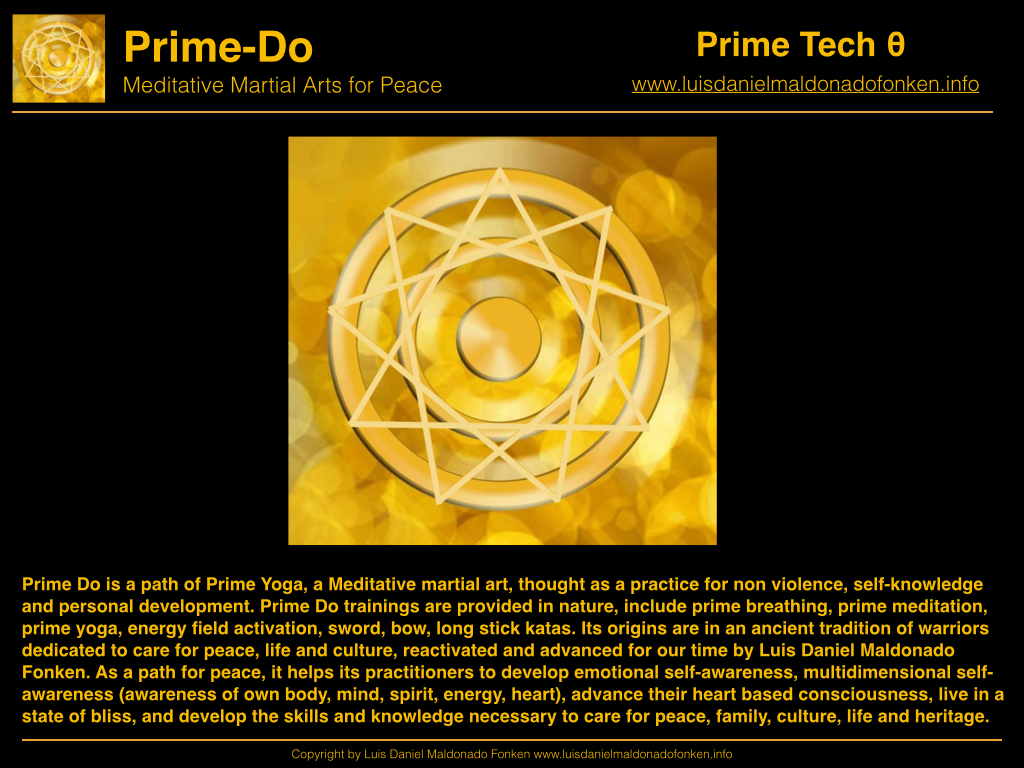 Prime Do is a path of Prime Yoga, a Meditative martial art, thought as a practice for non violence, self-knowledge and personal development. Prime Do trainings are provided in nature, include prime breathing, prime meditation, prime yoga, energy field activation, sword, bow, long stick katas. Its origins are in an ancient tradition of warriors dedicated to care for peace, life and culture, reactivated and advanced for our time by Luis Daniel Maldonado Fonken. As a path for peace, it helps its practitioners to develop emotional self-awareness, multidimensional self-awareness (awareness of own body, mind, spirit, energy, heart), advance their heart based consciousness, live in a state of bliss, and develop the skills and knowledge necessary to care for peace, family, culture, life and heritage. 
What is Prime Do ?
Prime Do is a non combative Martial Art, dedicated to the non violent practices of all the arts, it is a practice of heart based self-awareness and self-consciousness, emotional self-management.
Prime Do is a practice of peace, harmony with life, self-love and love. Prime do is dedicated to peace, family, culture, life and heritage caretakers.
Prime Do is the practice of all the arts, in daily life, for peace, love, family, culture. Its advanced stage of practice means the practice of prime love, divine perception and divine action, in daily life, family and business.
The History of Prime Do
Luis Daniel Maldonado Fonken, founder of Prime Do,  practice martial arts since young age, while his focus have been into the core of his practice in the meditative and yoga aspect of martial arts. In particular he will dedicate himself to the practice of the presence in the heart, a prime breathing meditation dedicated to emotional self transformation. As yoga and meditation teacher (Prime Yoga) will integrate the principles and presence of these practices into the practice of bow, sword and body contact katas.
Author of books dedicated to the art of peace, where the practice and understanding of martial arts is key "The Art of war", 400 pgs. and "The art of peace" a second e-booklet which includes references to several practices of Prime do, and the point of view of Prime Do regarding martial arts practices, dance, arts, love, government, culture, property, wealth and sustainable living.
Since 2007 LUIS is dedicated to provide Prime Technology services (Consultancy coaching and training services for corporations and community, towards sustainable living www.services.luisdanielmaldonadofonken.info ), integrated also the practice of Prime Do applied for emotional self-management for Business and Culture management, as a non violence practice.
As for since 2013 he is dedicated to facilitate Prime Do practices for peacem human rights and life care private projects, as non violence training, to be integrated in daily life and business, family and education, culture and government, facilitated through "The Art of Peace Project".
Do Jo
The practice of Prime Do,  as traditionally suggested according to Luis Daniel Maldonado Fonken, is developed in nature. The forest, mountains and coasts (of lakes, rivers, seas and oceans) of Switzerland, Austria, Italy, Belgium, Germany, Russia, Finland and South-america Pacific, have been witnessing the creation and development of the Prime Do Katas, and LUIS students have received transmision and instruction on the preliminary and advanced practices of all the arts of Prime Do.
Essence
Along the development of own Prime Do practice, Luis Daniel Maldonado Fonken discover common patterns of practice, focus, intention and attention, in several martial arts practitioners he met, which gave to him a field of research into ancient martial arts practices in all cultures. '
Development Stages
As for these particular kind of martial artists, will pass through five stages of development: the self-mastery in the body, emotions, mind, energy, behaviour, action; the self-mastery in the wisdom for collaboration and creation of harmonious development of the individual, family and culture; the self mastery for the integration of the principles of life and divine purpose, in the practice of the art; the self-mastery of the power of creation of life, history and culture; to finally the self mastery in the state of integration, prime self union, with prime source (divine source of all that is). Being these 5 stages of development of a martial artist towards becoming an instrument for peace, harmony and balance of all that is as all that is is expression of prime source.
The Prime Culture
Luis Daniel Maldonado Fonken, recognized in several practices of all the arts, along history, practitioners that reached those or associated 5 levels or stages, and became caretakers of life, according to own level of practice, as by following a path of divine perception and divine action. Cultures like China, Japan, India, Israel, Germany, Skandinavia, Russia, Greece, Rome, U.K., Galia, Spain, Egypt, Persian, Arabic Countries, and Tribal cultures of all over, have had such kind of warriors, to be listed as heroes in all their own cultural history.
LUIS discovered, along spiritual archeology expeditions at locations he visited, traces of a common culture of knowledge, peacem consciousness, and union with divine source, that have been influencing all culture in all ages of human history. Within the Prime Culture, a discipline which is based on the life care principles observed by the prime culture was practiced. This discipline will bring strength, wisdom and spiritual responsibility, to its practitioners; as well will become a path for the practice of union with divine source, a form of yoga.
Modern Age Generation
By applying this knowledge out of own research and own practice Luis Daniel Maldonado Fonken observed following sings into modern warriors he met:  Focus not into violence or agression but into the spiritual practice within martial arts, as an art dedicated to self-mastery; the nature of self responsibility these practitioners will show regarding care of life, harmony, and balance in the development of culture and society, their refined interest into knowledge, beauty, precision, wisdom; and the interest and skills into practicing all the arts: healing, self healing, gardening, arts of color, form and sound, dance, symbolic language, sacred love, family and culture care, sustainable living applied for daily life, family, business and others.
Prime Do
Prime Do, is an ancient path of sacred warriors in alignment with life and divine principles ( are living self-expressions of the source of all that is have been and will be ).
As known by history, myth or leyend, those warriors have perceived as heroes, mystics or wise men, magicians or demigods, even, some of them, recognized as gods. Creators of culture, tradition, knowledge, and peace.
The Dark Age
Prime Do Practitioners have had several challenges along human history, as for the practice of war developed by warriors dedicated to apply only power based practices, for achievement of own interests, wealth or power. Warriors that in principle did decide to lead war, apply violence, chaos and destruction, of cultures, of families and valuable individuals along human history, including hunting down Prime Do practitioners. There for Prime Do Practitioners have not been found nor traced, nor history registered their schools.
Culture and History Traces
Prime do practitioners, have supported cultures, religions, empires, corporations, governments, families and tribes, to evolve and advance themselves, in the fields of peace, culture, family, life care and heritage. The traces of their existance and collaboration with human evolution can be found as with several names and biographies, events and facts, on registered, public, non public and unknown history social, scientific and spiritual records.
Legacy
Traditionally Prime Do Practitioners teach 1-to-1, transferring in this modality their abilities and wisdom, from master to disciple.
Eventually schools will be open, which will be dedicated according to conditions of time and place, to the practice and promotion of the higher values of Prime Do: The Prime culture CODEX www.codex.luisdanielmaldonadofonken.info
Prime Do Prime Master, Luis Daniel Maldonado Fonken is dedicated since 2013 to empower and communicate with an international networks of life and peace care takers, (after meeting along his travels since 1996 practitioners of martial arts with signs of being trained by  teachers,that know principles of prime do, and since he has  met along conscious dreams Prime Do warriors)  around the globe, and he is dedicated to his vision: that one day soon, out of Collaboration and Wisdom, the ancient path of Prime Do, will become again popular and give a foundation for peace, care for life sustainability, culture, harmony and balance in our modern world.
Prime Do Master Luis Daniel Maldonado Fonken
Prime Do Master, Luis Daniel Maldonado Fonken, have been teaching Prime Do to his students since 2007 in a public way, while along his own practice and dedication to the Path of Prime Do, he has been empowering and teaching own crew, team members, community-network, since 1987. Experienced training fields along conscious dreams since age of 3.
Since 2014, after the completion of the 9 Katas of Prime Do, Prime Do Master, Luis Daniel Maldonado Fonken, back from his spiritual archeology expedition in Russia, opened the DOJO practice for Prime Do in Helsinki, Finland.
Prime Do is the practice of all the arts, in daily life, for peace, love, family, culture. Its advanced stage of practice means the practice of prime love, divine perception and divine action, in daily life, family and business.