Title: PRIMORDIAL MARTIAL ARTS COMPETITION 2018
URL: Original Source: http://research.luisdanielmaldonadofonken.info/2017/12/08/primordial-martial-arts-competition-2018/
---
PRIMORDIAL MARTIAL ARTS COMPETITION 2018
At the Matrix-Q Research Institute we believe have found essential keys of an ancient primordial martial arts system.
We would like the Martial Arts International Community to discover our research work and collaborate exploring in its potential applications, and correlations with the martial arts field of study.
The yearly competition, will ask Martial Artists from all styles and systems, to present a Kata a sequence of movements, that follows the key given by the Matrix-Q Research Institute.
This key, we believe,  can be applied by any and all martial arts and would be so essential, that all kind of techniques and forms, styles and systems, could be utilized.
Would you accept the challenge ?
Is your martial arts system, style, a primordial martial art ?
Information Online Conference: 20th Dec. 2017 REGISTER TODAY https://www.eventbrite.com/e/matrix-q-competition-2018-conference-online-primordial-martial-arts-competition-2018-tickets-41136557551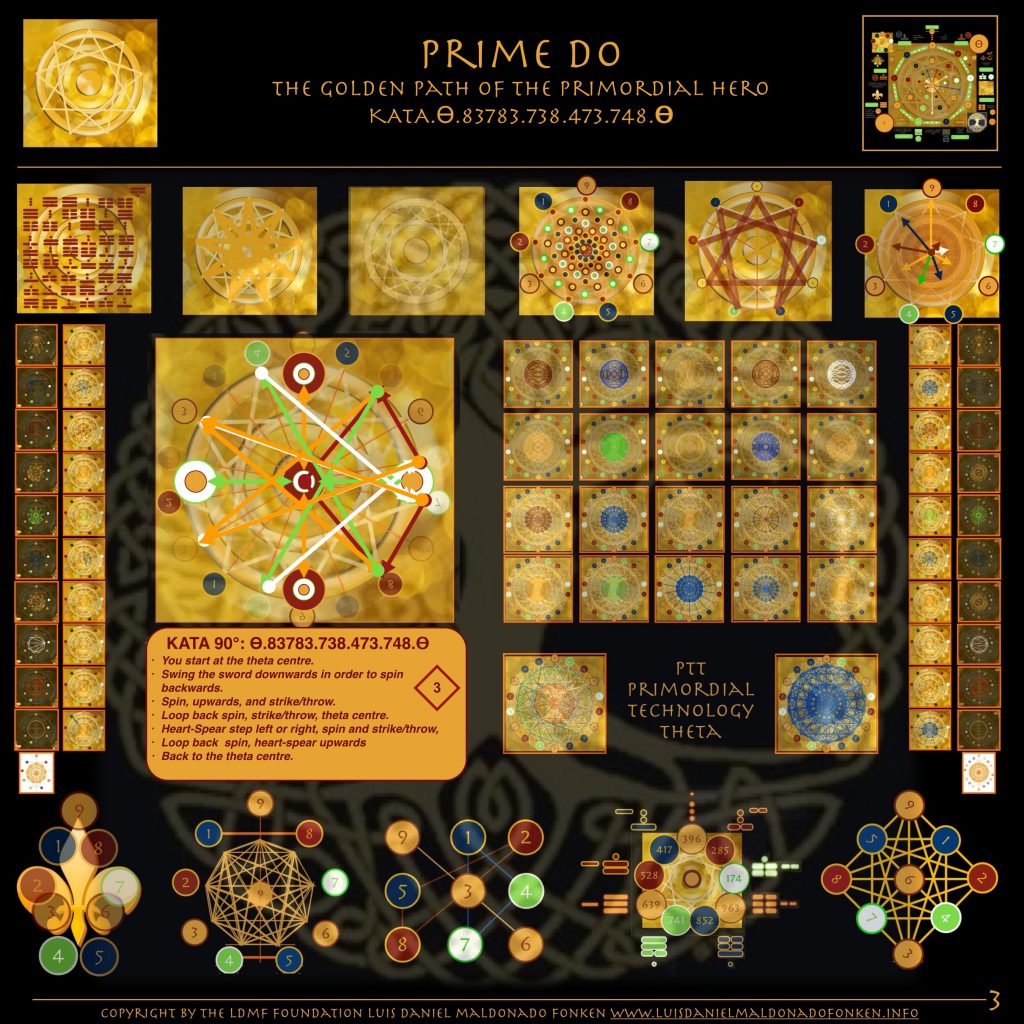 The Key is given in 3 forms:
.Audio, sequence of sounds that belongs to each movement
.Geometry system : primordial vectorial mathematics
.Cyphers sequence, algorithm
As well, on addition, a complementary materials that will help martial artist create the dance with the sequence given, a series of e-publications, will be made available.
Already the KEY for 2018 has been published:
THE PRIMORDIAL MARTIAL ARTS COMPETITION 2018
For the first competition the KEY SEQUENCE, algorithm, melody and geometric system has been already published.
REGISTER CONDITIONS
Candidates for the competition need to apply in order to be integrated to the prizes and benefits given by the Matrix-Q Research Institute
. Introduce your self and your preferred martial arts style, system, to be utilized in the competition, in 1 min video clip. (Will you utilize weapons, or other tools for the dance?)
. Write a letter, PDF format, introducing yourself.
. If you are a trainer, instructor, or have learned several systems of martial arts, yoga, meditation or others related please let us know. Present by all means your CV.
. Your e-mail, address, photo, website, linkedin and FB need to be send as well. We will create for the finals a page for each of the participants.
After evaluation the candidates will receive an updated set of materials.
Send your application to: welcome@luisdanielmaldonadofonken.info
COMPETITION PROCESS
.Martial artists will have 81 days or the days between solstice and equinox, to complete the KATA, sequence or dance of movements.

.Every 4 weeks a miniclip of 1-3 min need to be send with the update of the dance progress and questions by the candidates

.Questions will be answered individually by e-mail or in general when the question is common for many participants through video message.

.Eventually one online conference will be given with support or lessons, if necessary

.The points will be given for application process, updates of progress, and final presentation

.The final presentation means a video with documentation. The documentation means a detail explanation of the function of the techniques and movements and how they are related to each cypher).

APPLICATION REGISTER DATES & CATEGORIES

Latest apply to join the competition at equinox or solstice.

The competition will run along the whole year.

For example for the first group of participants, the results will be given (evaluation of their work) at the next solstice or equinox. (within the season the application was made)

If a winner or not,  of one season wishes to participate again and upgrade its kata, is welcome to join again the competition, up to 4 times per year, it means to join again every season, but for a higher category.

Every participant starts in the same category. After the first evaluation, prizes will be given and categories assigned.

INFORMATION, ONLINE CONFERENCE

A free online conference will be scheduled for martial artists interested to participate in the competition

Please contact us with your e-mail and questions or comments to: welcome@luisdanielmaldonadofonken.info

The first online conference has been scheduled for 20th December 2017

Two conferences will be scheduled, for Questions and Answers regarding the competition, before solstice and equinox.

PRIZES 17000.00 EUR

The prizes for 2018 are in value of 17000.00 EUR and will include:

Gift certificates for :

.Complete training program online on PT-Theta Tools for strategic management, education, entrepreneurship, peace work or non violence.

.Certification as PT-Theta Trainers

.Online individual one-2-one training session

.Coaching sessions

.e-Books

.Udemy e-learning trainings

.Courses outdoors or indoors in the Netherlands

.Invitation for 3 full days training in the Netherlands, accommodation and training.

.Gift Certificates for up to 3000.00 EUR to be utilized by any service of our organization network and partners.
as well as gifts by our sponsors and network partners.
WHO CAN PARTICIPATE ?
Martial artists from any location around the world, can participate online.
COMPETITION EVENT
.In the Netherlands, a closing event will be scheduled, and recorded on video for streaming later.
.Along the event the winners video clips will be presented, a ceremony with prizes and certificates and demonstrations of Martial Artists that are able to join the event in the Netherlands.
.The video of the event will be shared with all participants along the same week.
VOLUNTEER
Would you like to collaborate with the competition process as volunteer? 1-3 hours per week ? please contact us. welcome@luisdanielmaldonadofonken.info