Peace Work through Performing Arts 
Matrix-Q Intelligence (Human Potential Studies, Emotional Intelligence, Emotional Self-Management) applied to performing arts, non violence, communication. Artistic Productions focus on awareness rising and promotion of SDGs (peace, gender inclusivity, equality, human rights, sustainable development, animal welfare…). Casting, Training and Arts Production.
---
The Matrix-Q Research Institute, based on the research 2011-2016 developed by Luis Daniel Maldonado Fonken, on Peace, suggests the project Prime Pax – Pax Primordialis, for global peace, in the spirit of the SDG16  (Promotion of Peaceful and inclusive societies, suggested by the United Nations SDG2030).
The Project Pax Primordialis take use of the previous work of the Matrix-Q Research Institute on human potential, family, health Life-Family-Work-Balance, preventive intervention, global culture and civilization advancement, non violence, sustainable living and peace.
How to join us ?  There is a casting, training and evaluation process necessary, mandatory, for new crew (Ensemble) members.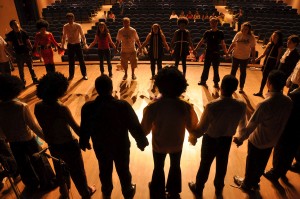 PROJECT GOALS
The following tasks are developed through this project:
Design and promotion of peace games by utilizing the Matrix 9+ Game Generator (Including LARP, Video, Simulations and Online Games)
Provide training and coaching on non violence according to the "9 Primordial Principles of Health, Happiness and Joy".
Provide training and coaching on Family-Life-Work-Balance, according to the "9 Primordial Principles of Health, Happiness and Joy".
Provide Training on Nature Inspired Peace Leadership.
Produce performing arts event, based on the knowledge and methods of the 9 Primordial Arts.
Provide certificate and licenses for coaches, trainers, leaders and performing artists, with focus on peace work.
Provide a foundation training on SDG2030, United Nations Sustainable Development Goals, in particular those that focus in peace, family, culture, equality.
Here additional details on our project:
THE EVENT: A spring full day training and casting. Free or charge.
CASTING: We wish for a new crew of performing artists, educators, coaches and peace leaders. A production community/network.
CERTIFICATES: Candidates that complete the full day training will receive a certificate by the Matrix-Q Research Institute.
OPPORTUNITY:  1.) To become eligible for performing arts production crew, or 2.) as facilitator (trainer/coach), or 3.) team member of our peace project: The Pax Primordialis. www.prime-peace.luisdanielmaldonadofonken.info
JOB POSITIONS: Vary according to responsibility and casting results from internship, to coach/trainer, team leader or production project manager.
TIME AVAILABILITY NECESSARY: from 9 hours up to 100% dedication/mo.
INFORMATION: At the casting event or by e-mail.
CONDITION TO JOIN THE FULL DAY FREE TRAINING & CASTING: 
    Pre-register, by e-mail, to: welcome@matrix-q.com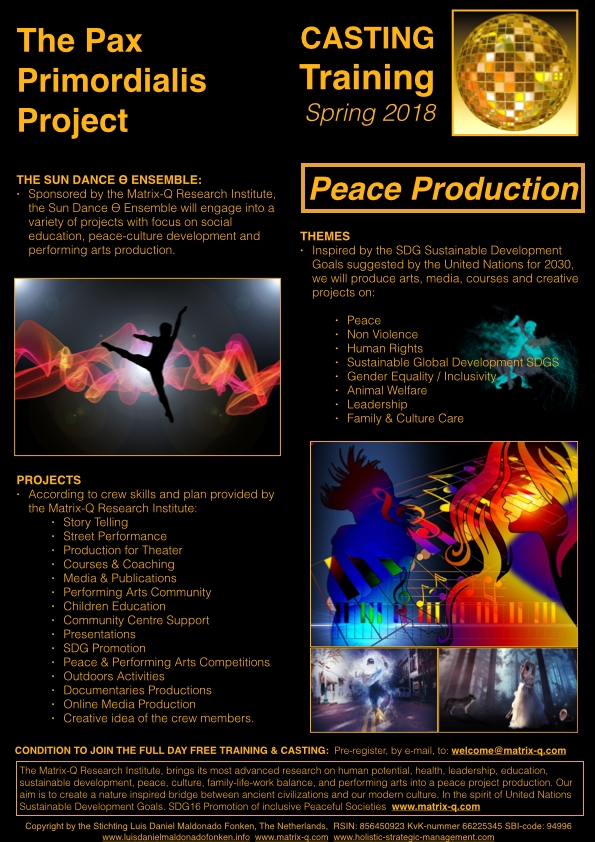 THE EVENT: 
Sponsored by the Matrix-Q Research Institute, a full day training and casting will be provided to the intentional crew candidates.
OUR METHOD:
Based on the ancient idea of circle theater and performing arts improv. the following methods will be trained:
The 9 Primordial Principles of Health, Happiness and Joy
Non Violent Self-expression & Communication
The 9 Primordial Arts (9 Pillars)
The Primordial Archetypes
Matrix-Q Intelligence Method
Non Violent Martial Arts (Prime do)
Sun Dance Theta – Meditative Arts & Dance Improv.  Methods.
THE  FULL DAY TRAINING
Part 01: Introduction to the project
Part 02: introduction to the methods.
Part 03: Training & Casting
Along the day candidates will learn the methods above listed, and be evaluated on their current capacity of learning and application.
CASTING  RESULTS
Will be given the same day or within a week after the training.
CREW MEETINGS & PROJECT TASKS
The eligible candidates will be invited to join a weekly or bi-monthly training of 3 hours, dedicated to a peace work production and other tasks, sub projects, of the PAX PRIMORDIALIS project.
www.prime-peace.luisdanielmaldonadofonken.info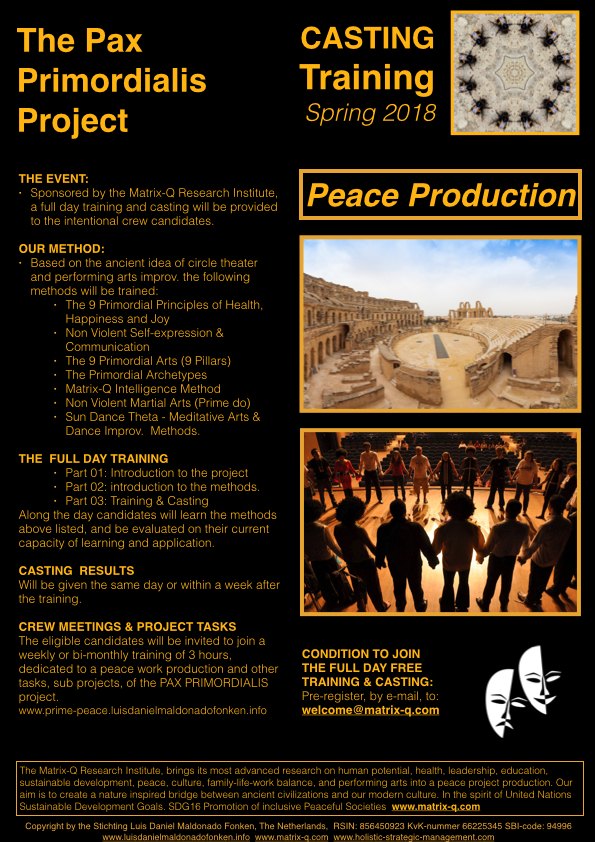 THE SUN DANCE Ɵ ENSEMBLE: 
Sponsored by the Matrix-Q Research Institute, the Sun Dance Ɵ Ensemble will engage into a variety of projects with focus on social education, peace-culture development and performing arts production.
THEMES
Inspired by the SDG Sustainable Development Goals suggested by the United Nations for 2030, we will produce arts, media, courses and creative projects on:
Peace
Non Violence
Human Rights
Sustainable Global Development SDGS
Gender Equality / Inclusivity
Animal Welfare
Leadership
Family & Culture Care
PROJECTS EXAMPLES
According to crew skills and plan provided by the Matrix-Q Research Institute:
Story Telling
Street Performance
Production for Theater
Courses & Coaching
Media & Publications
Performing Arts Community
Children Education
Community Centre Support
Presentations
SDG Promotion
Peace & Performing Arts Competitions
Outdoors Activities
Documentaries Productions
Online Media Production
Creative idea of the crew members.